Enjoy a quality life getting the care you need at one of our adult senior family homes
Our adult family home include 24 hour staffing, private rooms, all meals, and certified caregivers
Laundry service and full housekeeping are included
Every room is full furnished and adorned with personal touches that turn it into a true home
A host of amenities and fun, off-site activities make us far more than an ordinary adult family home
We have multiple senior homes in two locations, and each is fully staffed with friendly and courteous certified professionals that are dedicated to making sure you feel at home. There are plenty of adult family home in Washington, but we offer something far more appealing to seniors who take pride in their independence.
Take some times to review our full list of our adult family home services and see why so many people just like you are happy to be a part of our Adult Family Home. Enjoy peace of mind, good health, and live each day to the fullest in one of our happy homes.
Personalize your room and turn it into your home
One of the most difficult parts of making the move to an adult family home is giving up personal treasures that took a lifetime to acquire. While it's impossible to move a house full of personal items into any assisted living family home, we encourage residents to bring some person items to turn their private rooms into a place they can call home.
So hang some family picture on your walls, and show off your grandchildren to your fellow residents. Add your own personal touches and surround yourself with the mementos of a life well-lived. Create a space that belongs solely to you, so that you always feel truly at home with your Adult Family Home.
Finding the right adult family home for yourself or a family member
If you are looking for adult family home for yourself or for someone in your family, you should take the time to be sure you're making the right choice. If you need more personalized attention and specialized medical care, an adult family home offers a solution that doesn't mean surrendering your independence entirely. Still, it's important to select an assisting living home that suits your needs.
Residential care is different from larger facilities in many ways, not the least of which is the dwelling itself. Residential homes used for adult family home are smaller and more intimate, with a maximum of 6 residents. Larger facilities lose that home-like quality because they feel more like hotels or condominiums, and some even have hundreds of residents.
Another difference between larger adult family home and family homes is the nature of the resident care. While both are capable of offering quality health care and have a host of amenities, smaller homes have a personalized touch that simply isn't possible when there are large numbers of residents. The home atmosphere is more home-like, because you know all of your housemates and learn to live with them like family.
If you're considering a move to an adult family home or some other form of adult family home, we ask that you sit down and talk about your options. There are a number of factors that you need to consider, especially if the resident has special health needs that must be addressed.
Moving to our adult family home is a big life change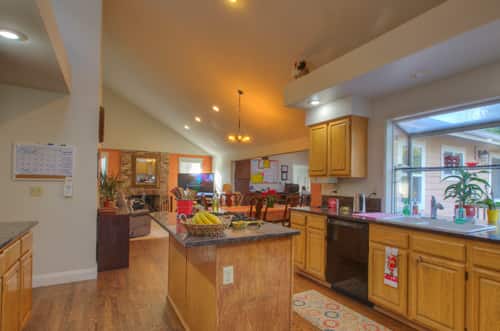 Take some time to talk about the many life changes you will encounter when you make the move to an assisted living home. Everyone in the family should be involved in this conversation because it's a massive life change that will require a great deal of sacrifice. Remember that if health or memory issues are in play, waiting for an emergency may be far too late. In these scenarios, it's important to recognize that extra care is needed and must be provided by someone with caregiving experience.
Before sitting down to have this all-important conversation, study your options. Would a large adult family home facility be better for your needs, or would the resident prefer the more home-like environment of a family home? If you're asking these questions about a loved one, make sure that they are included in these conversations and always be willing to address their concerns. The move won't be easy for some, but it will be a lot harder if they're kept out of the loop when decisions are being made.
Always remain positive and be ready to listen. Some of our residents were eager to step into their new life because they were more than ready to let go of some of their personal responsibilities. Others were more resistant but quickly adapted to their home because they fully understood the many great things we have to offer.
Personal needs and health requirements
Obviously, health considerations are a big part of making the move to an adult family home. You will need to outline the nature and scope of care needed. This applies to medical care, social care, and physical care. If there are special medical conditions to consider, like dementia or Alzheimer's, it's important to find an assisted living home that can address them.
You can only enjoy a happy life if you're living a healthy one, which is why we promote wellness in diet, company, and care.
Investigate your options and narrow down your options
Once you have a short list of options (which hopefully includes our Adult Family Home), you should visit with each adult family home facility or adult family home. Interview members of the staff, talk to the manager, and inspect the premises to see if it lives up to your expectations.
You can always call us to schedule an appointment. We are proud of our family homes and are eager to add new members to our family. We can also provide you with state inspection reports and you are welcome to read reviews from residents and their families. We will also give you a complete list of our many services.
Contact Our Adult Family Homes and find a place you can call home
If you would like to learn more, give us a call or send us an email, and we can arrange a tour and provide you with more information.